Culture / Competition / 2 Museums
It is our strong belief that the choice of the organizers to propose two almost symmetrical plots to the axis of the Rondo already establishes to a great extent the Gate Condition. The call for the design teams lies to our eyes more on the side of challenging the nature of this dipole. Our position has been neither on the side of two identical volumes, which would overemphasize a monumentality on the site, nor in the side of two entirely different volumes that would form a competing tension among them and with the neighboring monument. Instead we focused on the design of two buildings that, although distinct in their formal expression, will nevertheless share common elements and will seem to be born out of the same process. Along these lines we also disregarded any formal expression that would give the feeling of a broken-continuity, i.e. the impression that one continuous volume has been dissected by the monument that lies in the middle. 

Taking the reverse path from interior to exterior we highlighted the importance of generating two unique museological experiences and not let an overarching decision on an urban scale lead to a "mirror-situation". We do not consider the context alone of the two museums to suffice for a differentiation of the two buildings, especially when the programmatic requirements of both seem quite similar. We took instead the theme of light and its counterpart - shadow, expressed also in the design brief, as a vehicle for design. 
Location
Budapest, Hungary
Team
D.Zoupas, G.Zoupas, M.Petrogonas, R.Oor
We use a path on the ground extruded into a surface to slice two originally identical volumes.

In the case of the Fotomuzeum the sliced volume is abolished in favor of a more 'voluptuous' facade. The curvature of the facade is carried in the organization of the interior circulation organized along the back of the exterior surface.

In the case of the Museum of Architecture the sliced part is only abolished on the ground floor while it cantilevers on the upper floors forming a grand canopy as an extended outdoor foyer, an interstitial space between the city and the museum.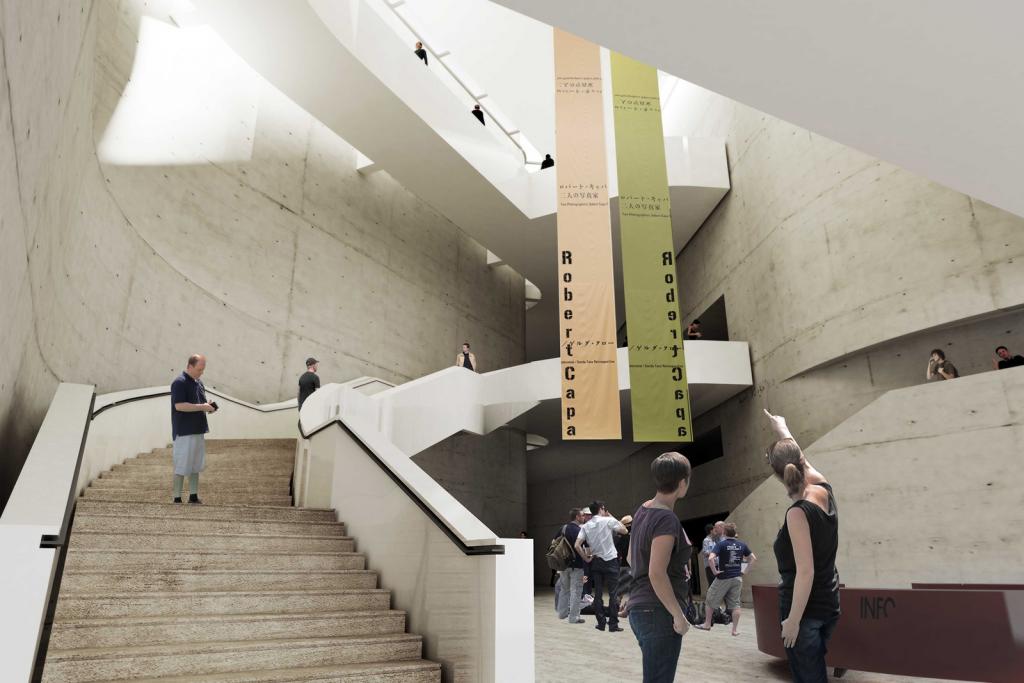 Museum of Photography Interior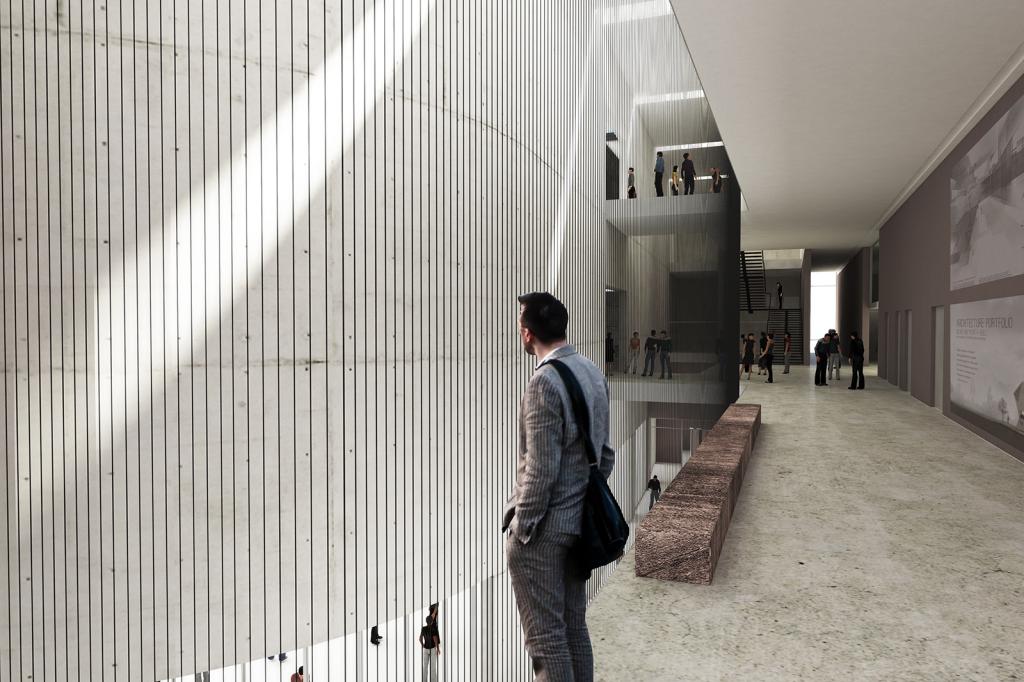 Museum of Architecture Interior